By Yang Yuan-ting and Jake Chung / Staff reporter, with staff writer
Goats would no longer need to be vaccinated against the goat pox virus from Jan. 1, as the nation has successfully contained an outbreak that began in 2008, the Council of Agriculture said yesterday.
Taiwan is to notify the World Organization for Animal Health (WOAH) that it is a goat pox-free region after the initial outbreak in 2008 was contained and the country went a decade without a repeat incident.
Taiwan's goat farming industry mostly satisfies domestic demand, but declined after a goat pox outbreak began in June 2008.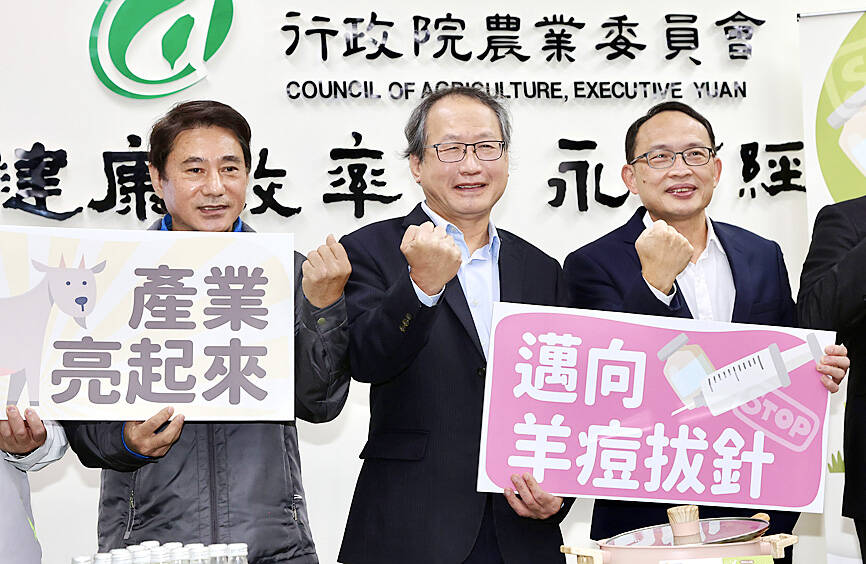 Photo: CNA
The outbreak reached a high in 2010, leading to the sector euthanizing 23,740 goats and sheep across 583 farms, the council said.
The council said that the last case of goat pox was found on Feb. 5, 2012, and there has not been a reported case since.
According to WOAH regulations, if a country has not had an incident for three years since the last reported case, or if the government has continually implemented a slaughter policy for all infected goats, it can apply for disease-free status six months after the last infected sheep or goat has been put down.
The council said that Taiwan meets all conditions for disease-free status, and on Jan. 1 would stop administering the vaccine.
However, a six-month observation period would follow, the council said.
The council said it would keep an inventory of goat pox vaccines in storage during the observation period.
The sheep and goat farming industry in Taiwan is valued at NT$1 billion (US$32.6 million), Goat Farmers' Association director-general Lin Chun-chen (林浚琛) said.
Farmers have for six years been hoping the government would rescind the vaccine policy, Liu said, adding that rolling back the policy could help grow the industry.
Lin also expressed hope that the industry would grow to include exports, adding that the advantage of Taiwanese mutton is that it does not have a strong smell.
Comments will be moderated. Keep comments relevant to the article. Remarks containing abusive and obscene language, personal attacks of any kind or promotion will be removed and the user banned. Final decision will be at the discretion of the Taipei Times.