MUMBAI: A village in Wada taluka of Palghar district has reported a case of Lumpy Skin Disease (LSD) in a Kankrej breed cow. The district animal husbandry department has begun vaccination of cattle in a radius of 5km of the affected Kondhale village.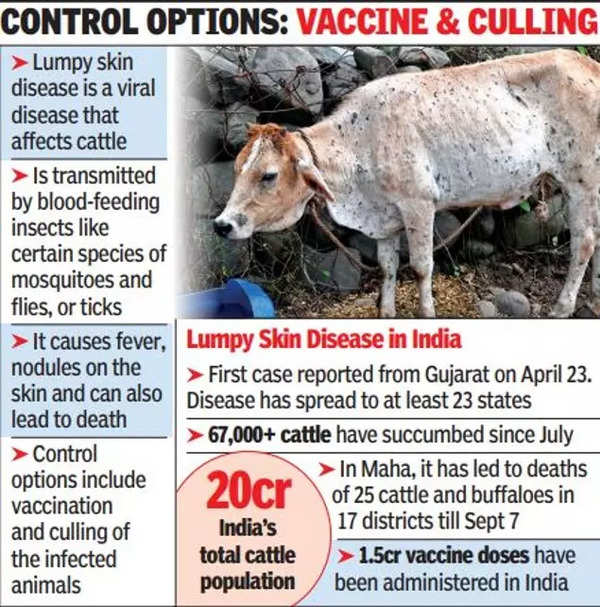 The civic body in Mumbai, which has ordered a survey of all animal shelters, plans to start vaccinating its cattle population of nearly 3,300 from Wednesday.
Palghar zilla chief executive officer Siddharam Salimath has urged dairy farmers and cattle owners to look for symptoms of the virus, transmitted among animals by blood-feeding insects. While the infected cow is under medication, cattle owners have been asked not to panic as timely medication can heal the disease. There are over three lakh cattle in Palghar district.
All animals in the cowshed at Kondhale village were moved away, and vaccination of the animals has begun. Neighbouring villages like Mangathane, Sapronde, Mhasawal and Usar have been put on high alert as per the Prevention and Control of Infectious and Contagious Diseases in Animals Act provisions. Under the Act, any symptoms of LSD will have to be notified to the district administration.
An awareness campaign has been launched in the rural areas of the district, where the handlers are informed about the symptoms, which include fever, nasal and lacrimal discharge, ulcers in the eye, swollen lymph nodes and a drop in milk production. Owners having cattle aged three months and above have been asked to contact district officers for vaccination. District officials said there is adequate supply of the goat pox vaccine being administered to cattle.
While Mumbai has not seen any confirmed or suspected cases, surveillance has been upped. Sanjeev Kumar, BMC's additional municipal commissioner, said that as per 2019 census, there are 3,226 cows and 24,388 buffaloes in the city. The cows' vaccination will be prioritised and completed by this week. Most infections are seen in cows, said officials. The BMC also plans to vaccinate stray cattle.
The civic health department has set up a team consisting of veterinary officers and senior sanitary inspectors to visit cattle sheds and educate the handlers. In addition, the pesticide department will intensify fogging and pest control measures in cowsheds and surrounding areas.
Dr Kaleem Pathan, general manager in charge of Deonar abattoir, said the disease is not known to jump over to humans, but they advise cattle handlers to follow basic hygiene protocols. "The disease is treatable, and the animals recover within 8-10 days, but some succumb if there is a secondary bacterial infection," he added.
In Palghar, as the rest of the state, villagers have been urged not to purchase cattle from neighbouring Gujarat, where several districts have reported LSD cases.
In August last year, 10-15 infections were reported in Palghar district and over 5,300 cattle were vaccinated.