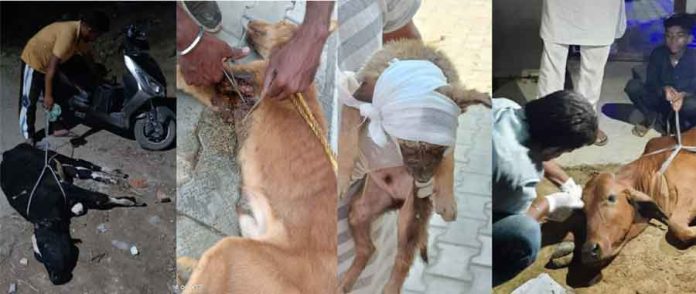 2500 cows were treated for lumpy skin disease
Abohar (Apparently/Sudhir Arora) As the Corona period continues, the human race has made several attempts to protect itself. But now the speechless cow family is surrounded by a disease called Lumpy Skin and the cow family is in a helpless position to do nothing for itself. By forming a Seva Parmo Dharma Samiti in Abohar, the youth, with the help of the townspeople, tried to prevent the disease and treated around 2500 cow mothers in the city. The members of the Seva Paramo Dharma Abohar team said that they are going to start a new mission from next week to put radium belts on the necks of all the cows in the city as a step forward for humanity. Thus, accidents caused by animals can be prevented in the coming winter. Rajesh Sharma, Seva Paramo Dharma Abohar Sevadar, said that apart from cows, his team also serves dogs, cats or other animals and birds with devotion.
Also Read:- Ranjeev Raheja has been appointed as the President of Aarti Association
– Advertisement –
Other Update To achieve us Facebook And TwitterFollow on Instagram, LinkedIn, YouTube.
– Advertisement –