Doja Cat turned up to Paris Fashion Week adorned in 30,000 Swarovski crystals applied individually by hand.
The "Kiss Me More" singer sat front row at Schiaparelli's haute couture spring/summer 2023 runway show wearing the incredible look, which saw her skin painted red and completely covered with the crystals.
Doja Cat finished off the ensemble by wearing a red silk faille bustier and a hand-knitted skirt of lacquered wooden beads.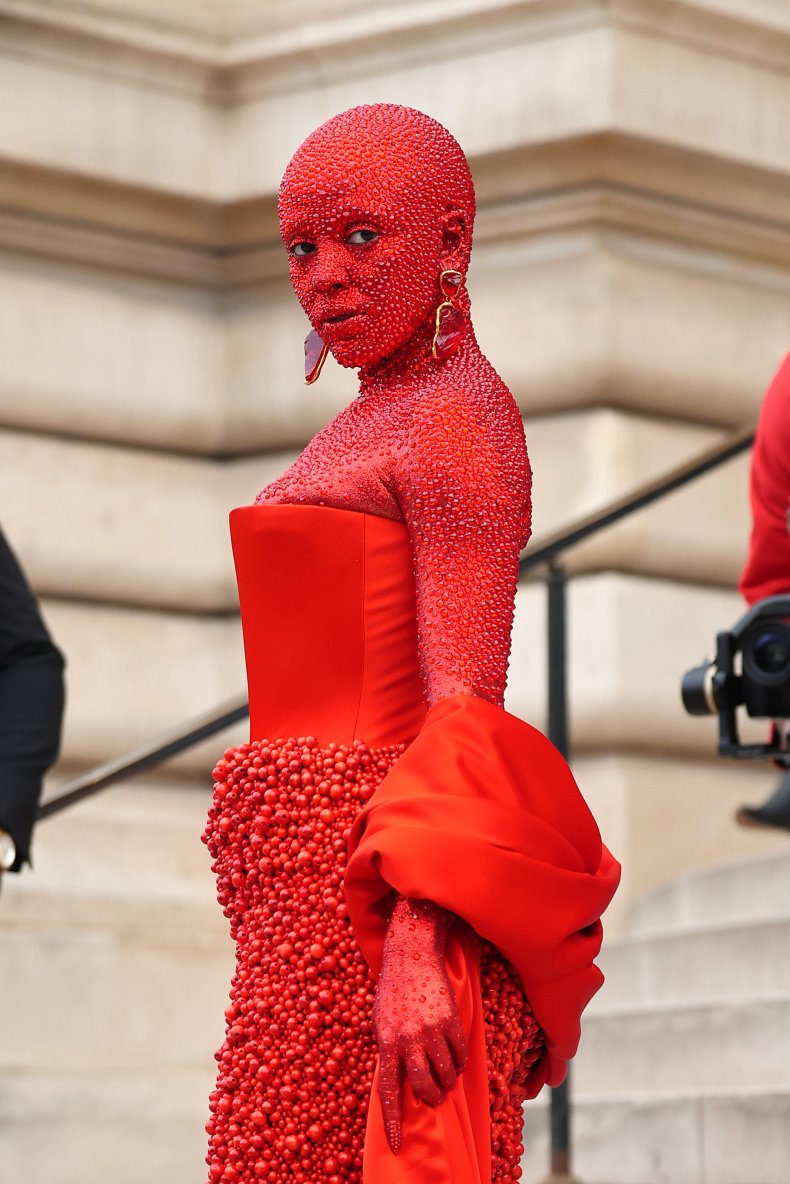 She also wore red drop earrings by the fashion label and trompe l'œil toe boots— a painting technique applied to the footwear that gives an optical illusion.
Doja Cat turned heads as she ascended the stairs at the Petit Palais in Paris to attend the show by Schiaparelli's creative director, Daniel Roseberry.
The world-renowned Pat McGrath did the makeup for the entire show, which was inspired by Dante Alighieri's Inferno. She described Doja Cat's outfit as a "shimmering, scintillating and subversive look."
"It was an honor to collaborate with the incredibly gifted @DojaCat and @DanielRoseberry on the 'Doja's Inferno' look for @Schiaparelli's FW23 Haute Couture collection," McGrath wrote on Instagram.
"Doja's patience and commitment during the 4 hours and 58 minutes it took to create the look with #TeamPatMcGrath and I, which was covered in over 30,000 hand-applied @swarovski Crystals, was truly inspiring. The final product was a magical, mezmerising masterpiece and a tribute to Doja Cat's hard work and dedication."
Despite the intricacy of the look, many people were baffled by it, while others appreciated the high fashion.
"Chicken pox gone wild," commented one person on the Schiaparelli post, while another added on Twitter: "Doja Cat fully committed to her Schiaparelli look, she looks like a piece of art!"
And a third tweeted: "I appreciate Doja Cat being unapologetically committed to serving a look."
Doja Cat, 27, shot to fame with her 2019 album Hot Pink, which featured the hit single, "Say So."
She released Planet Her in 2021, which went on to spend three consecutive weeks at No. 2 on the Billboard album charts and had three top 10 singles, "Kiss Me More," "Need to Know" and "Woman."
She is no stranger to eye-catching looks and was recently part of the "dirty girl makeup" look.
Doja Cat turned up to Balenciaga Womenswear spring/summer 2023 at Paris Fashion Week in October 2022, rocking a bruised eye, cuts on her face and black teeth.
Actress Julia Fox came up with the term "dirty girl makeup" during an appearance on Emily Ratajkowski's podcast High Low With EmRata on November 8, 2022.
"Clean girl aesthetic is out," Fox said. "It's about, like, dirty girl.
"If I were to get dressed now and have the thought, 'I hope guys, like, are into this'… I can't even picture that," she added. "Like, I really do not get dressed with men in mind at all. At all. At all."