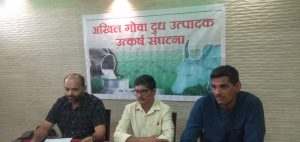 Goemkarponn Desk
PONDA: Akhil Goa Dudh Utpadak Sangatana has urged the government to control spread of Lumpy Skin Disease( LSD) on war footing.
All Goa Dudh Udpadak Utkarsh Sangatana President Sanjeev Cucolienkar said three month back farmers at Rajasthan and Gujarat suffered losses.
There after Goa government got three to four month time for vaccination but as government failed to control the LSD is Sattari and Ponda , Bicholim and also spread Milk producing pockets in Goa.
Further speaking to media along with office bearers Shivanand Bakre, Vinod Joshi said that government failed to conduct vaccination drive ontime for LSD , foot and mouth and other disease to and now due to negligence the cattles affected with Lumpy Skin Disease ( LSD) spread and found in Sattari and Ponda and other Talukas.
He also said that Calf eight to nine calf died of LSD in Ponda. He also said farmers not getting incentive for nine months towards milk supply.
Now at this stage it's difficult to vaccinate them at least government conduct proper management for prevention of lumpy to rest of the cattles.
There is no life saving drug and neither drug or vaccines for various diseases getting on time to save lives of cattles.
He said the stray cattle found with LSD gets mixup with domestic Milk producing animals. He said though there are no harmful effect in consuming milk the milk producing capacity of cattles affected with LSD reduces to fifty percent and there fore urgent management is needed to control LSD.
He said Farmers already suffering due to high rates of fodder, raw material which is not affordable. To add to this LSD is affecting their milk producing cattles. He said government take urgent Management on war footing to prevent spread of disease.
The stray cattles affected spreading disease to farmers cattles. He said if cattles died with LSD should get . Compensation.He also stressed Vaccination for foot and mouth disease.